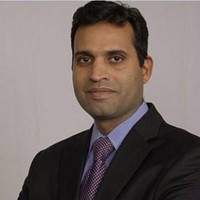 Dharmendra (Dharma) Verma
Dharmendra (Dharma) Verma is management consultant and technology evangelist with working experience in Fortune 100 companies. He earned bachelors from Indian Institute of Technology, Masters in Computer Science from University of Texas and MBA from University of Chicago Booth School of Business. He has played senior management roles with General Electric, Accenture, Cognizant and Birlasoft.
Dharma is founder of prepbuddies, an online collaborative AI based platform for faculty and students. He believes that technology will play vital role in  student's educational journey in modern era. He believes that providing an app for online classes,  lectures videos, references, online tests, tutorials, etc. will help students in focusing on their preparation for the examinations and utilizing their time efficiently.